Company Profile
Griffith Overseas Pvt. Ltd. is a couple of years old company situated in Vadodara, Gujarat (India) that deals in Ricobendazole, Closantel Base, Cyromazine, Nitroxynil Bp Vet, Aminobenzoic acid, Plate Type Heat Exchanger and many other Pharmaceutical Ingredients and Intermediates. Our marketing and sales personnel capitalizing on their knowledge and professionalism, have developed and maintained strategic relationships with manufacturers of products we deal in. Our valuable vendors are located in India as well as Taiwan. Our company maintains an inventory of chemical compounds, offered in powder and liquid form. The warehousing and packaging experts are trained to safely handle the products.
Griffith Overseas Pvt. Ltd. working as an Importer, Manufacturer and Exporter from Vadodara, Gujarat (India) has gained in-depth knowledge and experience in dealing in Rosuvastatin, Fenofibrate, Fexofenadine, Clopidogrel Bisulphate, P amino Benzoic Acid, Pregabalin, and many such products, that find usage in pharmaceutical and other industries. The aforesaid are Pharmaceutical Formulation Intermediates, Pharmaceutical Ingredients, Drug Intermediate and Intermediates for API production. We import the entire range from Taiwan and sell 75% of the total procured range to overseas markets, while abiding by all laws and legislation. We only purchase our range from approved companies which meet strict quality guidelines. Our personnel visit our vendors with a motive to evaluate them on several parameters, from their ability to deliver satisfactory range within time & budget; production facilities, quality system, and packaging & labeling system. What we focus on our part is the quality of our service. We strive to partner with our customers for long term by providing right products and services.
Objectives

Best Quality, Competitive price & timely service.
Competition creates better Products, alliances create better companies.
Customer Satisfaction is our motto.
Efficient Workforce
The team members at Griffith Overseas Pvt. Ltd. are trained to be able to meet all customers' requirements. The sales and marketing personnel are acquainted of the product uses, along with the technical and legal requirements. Their code of conduct, dedication and experience in the field greatly help in cultivating trust and confidence of customers in our company. Customers can contact our personnel anytime with their requirement for Povidone Iodine, Fenbendazole, Meloxicam, Acebrophylline and more such products.
Our Focus
We not only target Indian companies, but international ones as well. We want to be their valuable resource, enabling them to procure products for their complex applications.
Deliveries0
Our warehouse in Vadodara is well connected to the National capital New Delhi, Mumbai, Gandhi Nagar, Surat and Ahmedadad, through National Highway 8. We deliver the products to Indian regions via road transport. And, all international shipments are handled by a well-known logistic company. Customers can track their order via a link provided to them. Even, our personnel will be in touch to provide customers the information about their order status. Our local and international customer can be assured of right labels and numbers on each carton of the cargo. The Povidone Iodine, Fenbendazole, Meloxicam, Acebrophylline and more such products are carefully packed in cartons.
Applications
Our company provides a variety of chemical compounds which are either used as raw materials or finished products in industrial sectors, like:
Pharmaceutical
Agro Chemical
Animal Feed

Product Range

Griffith Overseas Pvt. Ltd. is a provider of a variety of Pharmaceutical Ingredients and Intermediates, such as the ones mentioned below:
Rosuvastatin
Fenofibrate
Fexofenadine
Clopidogrel Bisulphate
P amino Benzoic Acid
Pregabalin
Guaifenesin
Ornedazole
Bromhexine Hcl
Theobromine
Fluconazole
Sucralfate
Mebendazole
Pantoprazole
Ketokonazole
Albendazol
Metoprolol Succinate
Amlodipine Besylate
Mesalazine
Metoprolol Tartrate

Aceclofenac
Acebrophylline
Carbamezapine
Meloxicam
Ketorolac Tromethamine
Povidone Iodine
Fenbendazole
Oxfendazole
Toldimphos Sodium
Ricobendazole
Closantel Base
Cyromazine
Nitroxynil Bp Vet
Closantel Sodium Dihydrate
Nutritional

Pharmaceutical Intermediates
Fact Sheet
| | |
| --- | --- |
| Business Type | Manufacturer, Exporter & Importer |
| Year of Establishment | 2016 |
| No. of Employees | 3 |
| Warehousing Facility | Yes |
| Export Percentage | 75% |
| Import Market | Taiwan |
| Service Tax Registration No. | U24290GJ2016PTC094790 |
| Income Tax Registration No. | AAGCG6437Q |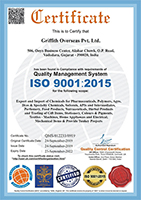 Contact Us
Plot No-506, Onyx Business Center, Akshar Chowk, O.p. Road,, Vadodara, Gujarat, 390020, India
Phone :+918037405245